Dovetail Slides
These dovetail slide sections are more tolerant to vibrations and shock loads than linear bearing slides. They provide low profile rigid mounting, for linear positioning of equipment, tooling, automation devices, and instrumentation.
Basic slide sections include a saddle, base, gib, and gib adjusting screws. When the saddle is longer than the base the way system is naturally protected without the need for bulky covers. Saddle and base mounting details are provided by the user to suite the application requirements.
GENERIC SLIDES standard dovetail slide sections are constructed from Hard-coat Aluminum, Cast Iron, Delrin, or Stainless Steel, PTFE surface treatment is also available.
Dovetail slide options include:

CLASSIC DOVETAIL SLIDES - HEAVY CROSS-SECTION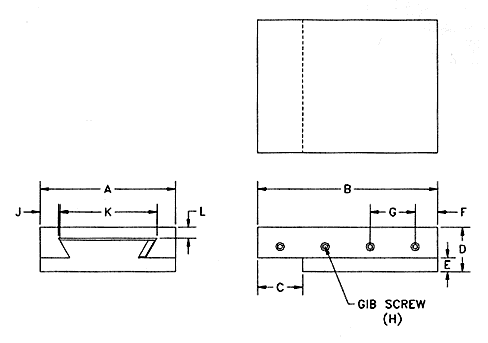 Model
Number

Dimensions

A

B

C

D

E

F

G

H

J

K

L

LH4-8-2-...
LH4-12-4-...

4
4

8
12

2
4


1.75
1.75

0.625
0.625

1
1

2
2

4
6

0.48
0.48

3.03
3.03

0.56
0.56

LH6-12-4-...
LH6-16-6-...

6
6

12
16


4
6

2.25
2.25

0.75
0.75

1
1

2
2

6
8

0.75
0.75

4.5
4.5

0.81
0.81

LH8-18-6-...
LH8-24-8-...

8
8

18
24

6
8

3
3

1
1

1
1


2
2


9
12

1.09
1.09

5.81
5.81

1.31
1.31

CLASSIC DOVETAIL SLIDES - LIGHT CROSS-SECTION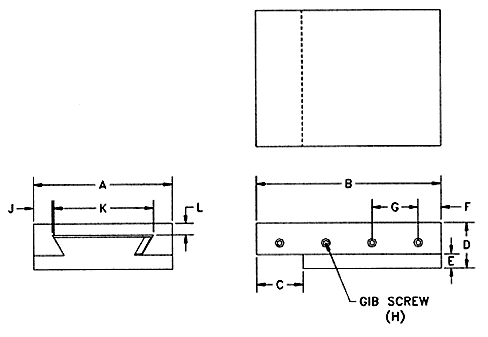 Model
Number

Dimensions

A

B

C

D

E

F

G

H

J

K

L

DL2-3-.75-...
DL2-4-1-...
DL2-6-2-...

2
2
2

3
4
6

0.75
1
2

0.88
0.88
0.88

0.19
0.19
0.19

0.5
0.5
0.75

1
1.5
1.5

3
3
4

0.31
0.31
0.31

1.38
1.38
1.38

0.25
0.25
0.25

DL3-4-1-...
DL3-5-1-...
DL3-6-2-...

3
3
3

4
5
6

1
1
2

1
1
1

0.25
0.25
0.25

0.5
0.7
0.75

1.5
1.81
1.5

3
4
4

0.4
0.4
0.4

2.19
2.19
2.19

0.31
0.31
0.31

DL4-6-1-...
DL4-8-2-...
DL4-12-3-...

4
4
4

6
8
12

1
2
3

1.5
1.5
1.5

0.44
0.44
0.44

0.75
1
1

1.5
2
2

4
4
6

0.48
0.48
0.48

3.03
3.03
3.03

0.53
0.53
0.53

DL6-8-2-...
DL6-12-4-...
DL6-16-4-...

6
6
6

8
12
16

2
4
4

1.75
1.75
1.75

0.56
0.56
0.56

1
1
1

2
2
2

4
6
8

0.75
0.75
0.75

4.5
4.5
4.5

0.65
0.65
0.65