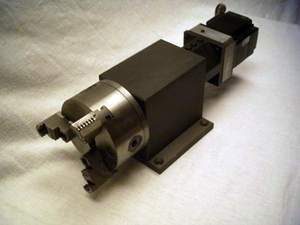 Generic Slides rotary indexer is a compact, accurate and cost effective solution for horizontal indexing applications. The Rotary indexer is ready to go and out of the box simple to use. Select an index increment and go. Integration with other machinery and equipment is easy using a basic I/O handshake, go and done signal.
EASY TO USE • QUALITY CONSTRUCTION • COST EFFECTIVE
Accu-Index - Rotary Indexers from Generic Slides
Provides a rigid, and compact horizontal indexing head for, engraving, laser marking, drilling, light machining, and assembly.
When used with our optional free running steady rest, and chuck, the rotary indexer can support long tubes, shafts or fixturing for indexing operations.
Rotary indexers combined with our slide products provide combinations of linear and rotary motion.
Provides an indexing function for automated systems, machinery, and equipment.

Standard Features:
Robust Construction from aluminum bar stock
64 Rc Hardcote finish
Single piece spindle and tooling flange
Preloaded tapered roller bearings
5 in universal 3 jaw chuck with jaws for ID or OD clamping

Direct anti-backlash motor drive
Self contained controller
Programmable index increments and speeds
Switch or remote selectable index increments
Manual operation, or easy interface with PC or PLC